Rockerbob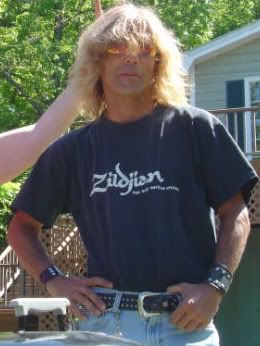 Joined: 29 Jan 2006
Posts: 870
Location: Los Angeles
Posted: Thu May 20, 2010 9:10 am

Post subject: Sing with the Angels!

---



There are so many positive things he taught us or tried to anyway in a business that has chewed up many and made them bitter people. But not Ronnie, always gracious, always positive, always a kind word for everyone, always a smile...

Ronnie, I promise to take what I have learned from you and try and be an example for others as you did, I hope I can do half as well as you have. God bless you for everything, I will miss you dearly although your voice lives on! All my best Wendy, my heart breaks for you as you have lost your soulmate. Stay strong and may God Bless you always....
_________________
The world is full of kings and queens,
Who blind your eyes and steal your dreams
Its heaven and hell!I am still to this day in a state of shock. I first saw Ronnie when he was in Rainbow. Then with Black Sabbath and one of my fav shows was at the LA Coliseum with Molly Hatchet, Journey, Cheap Trick and a few others. That show was so awesome seeing folks who were into the "pop" bands there that day, hear the greatest voice ever heard in music (IMO). After Sabbaths set all you heard throughout the crowd was...My God that guy could sing!! And sing by God is what he did every time out. Then The Dio Years...no words need be said, He just kicked the world in the ass with his music and his band. I was fortunate to be asked backstage for Dio and Rough Cutt at the Orange pavillion In San Bernadino Ca. and watching him from his side of the stage and seeing the crowds faces and reactions was simply amazing!! Then came the time of my life...Ronnie had heard of the band I was in at the time and asked us to come to a rehearsal studio ( I still have the directions on Wendys letterhead in a frame) and had us play our set to evaluate us. After, we went to his office and walking through seeing all the Gold and Platinum albums hanging on the wall, I was never the same. I thought music was in my blood but until that day I never knew just how much. Ronnie was the nicest most sincere individual I have and probably ever will meet. He always remembered my name even years later. How he treats his fans at every show has been an example to me and I try my best to do the same, after all, I have learned from the master himself.
Rockerbob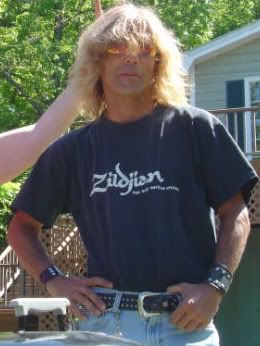 Joined: 29 Jan 2006
Posts: 870
Location: Los Angeles
Posted: Mon May 24, 2010 8:45 am

Post subject:

---


_________________
The world is full of kings and queens,
Who blind your eyes and steal your dreams
Its heaven and hell!On October 29th in Italy, my band Ruthless will share the stage with Ronnies Cousin Rock Feinstein and the Rods at the Play It Loud Festival. Before our set there will be a tribute to Ronnie and his music. It is gonna be very moving and we are looking forward to being a part of it.