Tuberkulose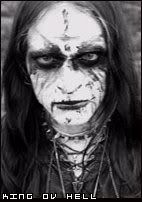 Joined: 01 Sep 2006
Posts: 458
Location: Norge
Posted: Fri Nov 06, 2009 9:07 am

Post subject:

---



If you can't understand the harsh vocals, and you can't really hear nothing but noise, then it's you who have failed in training your ears to be able to listen and fully appreciate this kind of vocals.

It's always easier to understand the clean vocals, because they appear to be more melodic, and the words are pronounced (more or less) in the same tones as in daily speach. However, once you're able to to truly understand the harsh vocals, clean vocals will never be as good, and never be able to give such a powerful and dark atmosphere to the music... At least not with metal.
_________________
I en svart kiste. Mother North.I always prefer growls (harsh vocals) over clean vocals.